FIRST
I want to say
WELCOME TO THE
...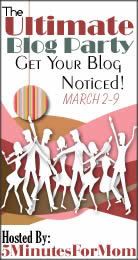 Then, I want you to know how much I appreciate you coming to visit my little humble corner of BlogWorld.

You are such a blessing to me! Just knowing somebody cares about what I write has given me such a boost of self confidence. You make me feel loved.
I am so grateful for you. You are more important than you know.
OK,
now that I got that mushy stuff outta the way...
Let's
PAAARRTT-AAYY
with the ladies at
5 Minutes For Mom.
They have got some AWESOME stuff going on over there, so make sure you go check it out. The prizes they have are
GORGEOUS

,

EXCITING

and

AMAZING
.
All you have to do is be a friend and visit their site for a chance to
WIN
,
WIN,
WIN
.
And on top of it all, Janice and Susan are two of the
sweetest
women you could ever want to meet. I'm really so very glad that I found their site.
Well, I'm off to go play visiting the other party guests. Hope you'll join me!