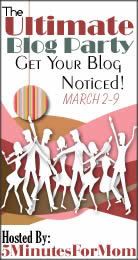 Just a LITTLE reminder...
The Ultimate Blog Party starts Friday!
Oooo, I can't wait!
I wish I knew enough html and web design to dress up my little corner of blogworld but, alas, templates are my lot in life. :D
Lots of prizes and give-aways, ya'll! Go
Check It Out!